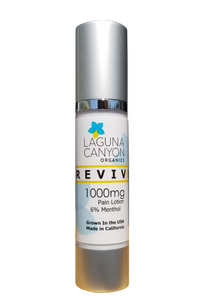 REVIVE 1000MG Hemp Oil and Menthol Lotion
Regular price $70.00 Sale
REVIVE 1000MG Hemp Oil with Menthol
TOP SELLER

What is REVIVE?
REVIVE, is a soothing, topical lotion packed with essential oils and mentholated creams. It absorbs quickly and is non-greasy making it perfect for before, during, and after a workout or physical therapy session. It's also great for showing yourself some self-love by massaging into your sore feet or problem areas at the end of the day. 
Ingredients:
USP Water, Aloe Vera Oil, Wintergreen Oil, Eucalyptus Oil, Rosemary, Lavender, Juniper, Peppermint, Glycerine, Sodium Myreth Sulfate, SD Alcohol Phenoxetol, Mixed Parabens, Carbomer, TEA, Iron Oxide, Whole Flower Hemp Extract.
Our Hemp oil is derived from industrial hemp grown organically in the USA.

FDA DISCLAIMER - The statements and products referred to throughout this site have not been evaluated by the FDA. They are not intended to diagnose, treat, cure or prevent any disease or condition. If you have a health condition or concern, consult a physician or your health care provider. Always consult a medical doctor before modifying your diet, using any new product, drug, supplement, or doing new exercises.